What can you expect at our hotel in St. Vigil in Enneberg?
Unforgettable experiences. Luxurious living. Gourmet delights. The Dolomites all around. This and so much more awaits you at the Excelsior Dolomites Life Resort, the hotel in St. Vigil in Enneberg for mountain lovers and action fans. The resort has an eventful history. As early as 1961, it was given the name "Excelsior", denoting excellent quality and elegance. Over the last decades, the Excelsior has grown from a small hotel in St. Vigil near Plan de Corones/Kronplatz to a four-star S hotel and then on to an entire resort. In 2006, the Castello di Dolasilla beauty castle was added, and later the main building was renovated, and the Dolomites Lodge with 16 suites was constructed. Even though the three buildings of our hotel in St. Vigil in Enneberg are each built differently, they form a harmonious whole – which you can feel right from the start. Indeed, the Excelsior has everything you might desire from a unique wellness hotel in South Tyrol in the Dolomites.
What drives the Excelsior?
Our staff! Without them, our hotel in St. Vigil in Enneberg would not have become the resort where we pamper you today. Many of our team members have been with us for ten, twenty, or even more than thirty years and have helped write the history of the Excelsior Dolomites Life Resort. Our team has our absolute trust and sincere appreciation, and they reflect these values back to us tenfold. Meet Mary, Irene, Jessica, Karol, Reni, Alberto, Luka, and all the other hardworking members of our team, and experience their good humour for yourself. We certainly enjoy this feeling of unity, which is what our family-friendly hotel in South Tyrol is all about; every staff member is part of the great #myexcelsiorteam. Would you like to join the Excelsior team?
A picture is worth a thousand words
Here's how to find your way around the hotel in St. Vigil in Enneberg
At our hotel in St. Vigil in South Tyrol, we have a lot to offer: 2,500m² of wellness, entertaining family programmes, guided hikes and bike tours followed by a picnic with the hosts, spectacular bar shows, and so much more. To help you find your way around the hotel in St. Vigil in Enneberg, we have included a resort map here. Click around the rooms and already start relaxing.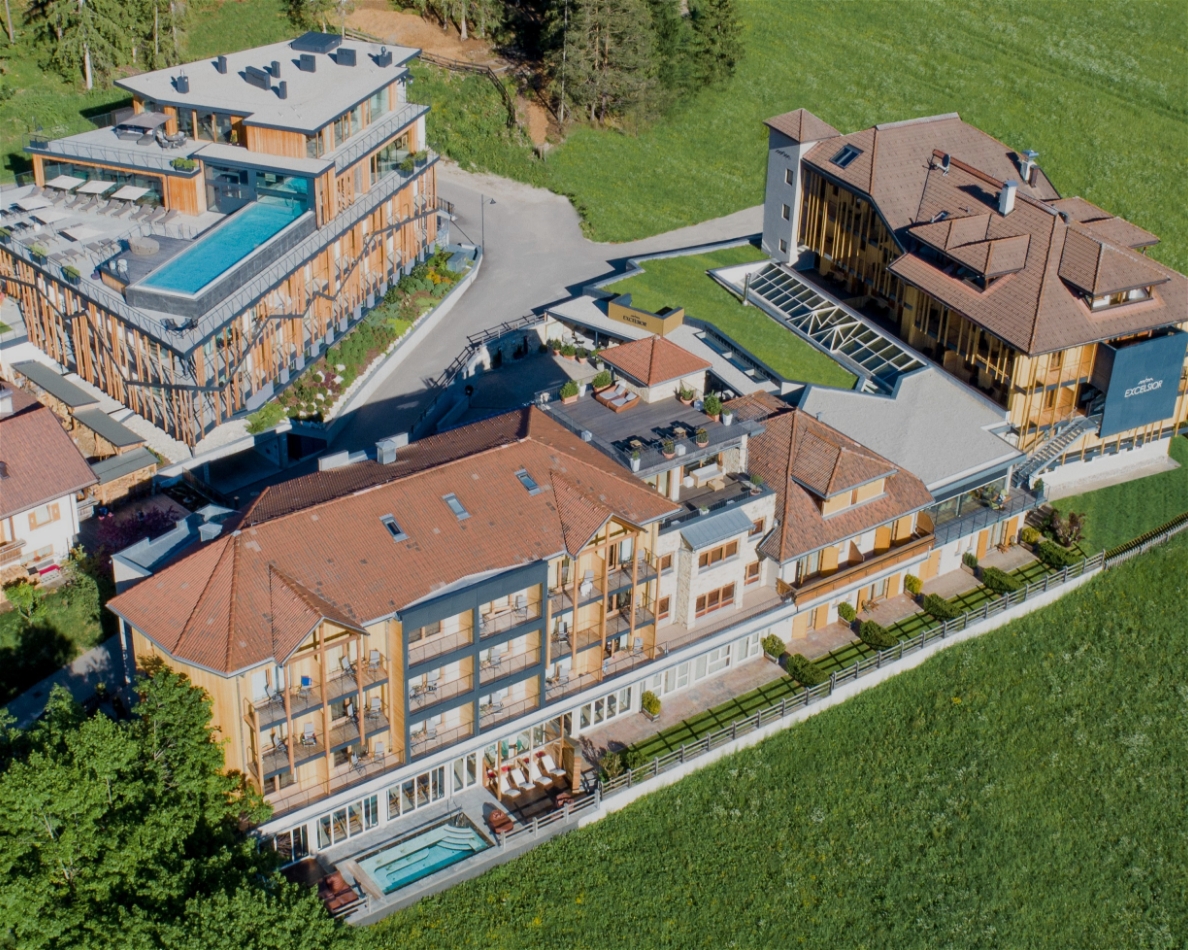 01
02
03
04
05
06
07
08
09
10
11
12
13
14
15
16
17
18
19
20
21
22
23
24
25
26
27
28
The Excelsior Resort at a glance
For everyone who likes to have a plan: Here, you can click your way through our three buildings and start planning where you'd like to spend your peaceful getaway. Let's begin our journey through the Excelsior Resort!