From the aperitif to the food to the cocktails:
a heavenly experience
How would we describe our cuisine?Exceptional, blending tradition with a modern twist, emphasizing sustainability and offering a unique and unmistakable experience. Karol and Reni, our dynamic duo of head chefs, started started their culinary journey as apprentices with us and have wielded the Excelsior kitchen spoon for 20 glorious years. Together with our kitchen team, they will spoil you with excellent Alpine-Mediterranean cuisine that combines the luxury of simplicity with the finest attention to detail. The quality of the ingredients is top-notch. Made chiefly with locally sourced ingredients, the dishes are prepared with skill and artistry to create culinary delights of the highest calibre. You can taste, smell, and see the competence of our kitchen team – let yourself be spoilt by real professionals.
"Our gourmet menus invite you to explore the world of Alpine gourmet cuisine. Mediterranean delights find their rightful place alongside traditional Ladin recipes, an Italian sensitivity for flavours, design, and above all, a love for the art of cooking."
Our ¾ gourmet board for 100% Alpine-Mediterranean enjoyment
As part of the ¾ gourmet board at our hotel in St. Vigil in Enneberg, all the dishes available to you at the buffet during the day – and the four-course menus in the evening – are included in the room rate. Each evening you can choose from a variety of dishes. Of course, vegetarian, vegan, and low-calorie dishes are also available – simply choose whatever you fancy. We are also happy to cater to the dietary requirements of people with allergies because healthy and energising food is necessary for you to enjoy your holiday in our resort to the fullest.
This is the ¾ gourmet board for mountain connoisseurs.
From 7:30 a.m. to 10:30 a.m.: varying themed breakfast buffets with high-quality products from regional producers, bread from the local baker, cheese, cold cuts, local honey, seasonal fruit from South Tyrol, mixed fruit juices, and tasty warm breakfast specialities freshly prepared at the Live Cooking station
From 12:30 p.m. to 2:00 p.m.: light lunch with a starter, a main course, various salads, fruits, and desserts
From 2:00 p.m. to 5:00 p.m.: hearty snacks, charcuterie, freshly baked cakes, fruit, tea bar, and various fruit juices
From 7:15 p.m. to 9:00 p.m.: crisp salads, homemade bread, and ice cream with your choice of toppings from the buffet
4-course gourmet menu to choose from – including vegetarian, gluten-free, and low-calorie options. The kitchen team is happy to accommodate special requests and allergies. To cover additional costs, we reserve the right to charge a €15.00 premium per menu.
Changing themed evenings
Refreshing non-alcoholic drinks, crisp South Tyrolean apples, and dried fruit available in the wellness areas throughout the day
Sundays: welcome cocktail with holiday information personally provided by the Call family
Taste the good life – enjoy a cocktail!
We mountain people like to treat ourselves to a glass of the "good stuff" every now and then, a drink that tastes good, smells good, and raises the spirits. Our cocktail bar is centrally located in the Excelsior Dolomites Life Resort. It represents pure dolce vita and is a place to get together, have good conversations, and casually lounge in a pleasant ambience. The cocktail menu is constantly changing – you will be especially thrilled by the current specials, which Alberto and Luka lovingly (and energetically!) mix in unique cocktail shows with special effects. There's always something suitable for children, too, and Alberto and Luka are happy to cater to individual requests for favourite drinks. Of course, at the Excelsior, we also have a select wine list with real treasures from South Tyrol and the rest of the world. When it comes to viticulture and wine-making, South Tyrol is by no means unknown anymore. Quality-certified wines from the region are sold worldwide and have firmly established themselves in haute cuisine. Let our sommelier Irene (one of the first female sommeliers in South Tyrol!) guide you through our wine cellar and enjoy fine wine and unbeatable service.
The places to be at the Excelsior
Cosy meeting place: the fireplace lounge
There is something meditative about a fireplace. Something elemental that draws us in subconsciously and imparts a feeling of comfort and security. This is the atmosphere you will find in our resort's fireplace lounge. Enjoy the glow of the fire with a good drink and stimulating conversation with your loved ones.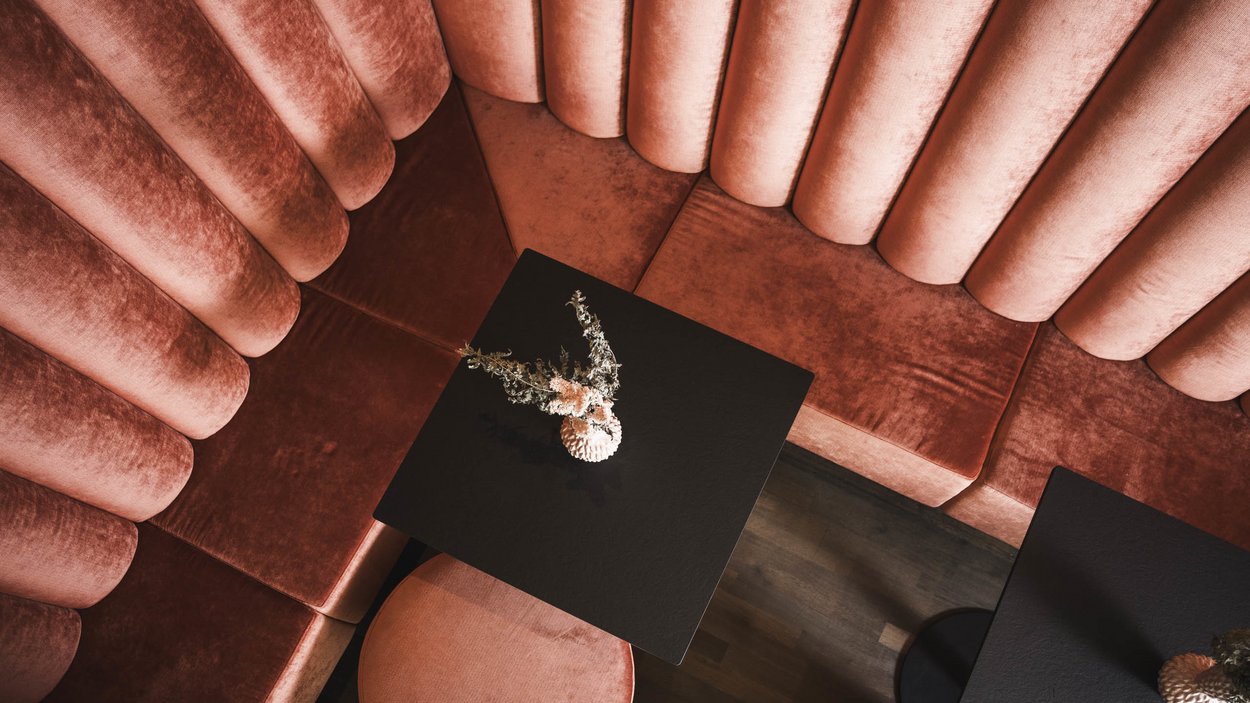 Fantastic panoramic view: the sun terraces
South Tyrol's geographically advantageous location, protected by the northern Alps, which keep cloud gatherings and cold winds at bay, means that we have many sunny days. We invite you to enjoy them on our two sun terraces – the Zen Terrace and the Fanes Terrace, both at the Sky Spa – while sipping a refreshing aperitif.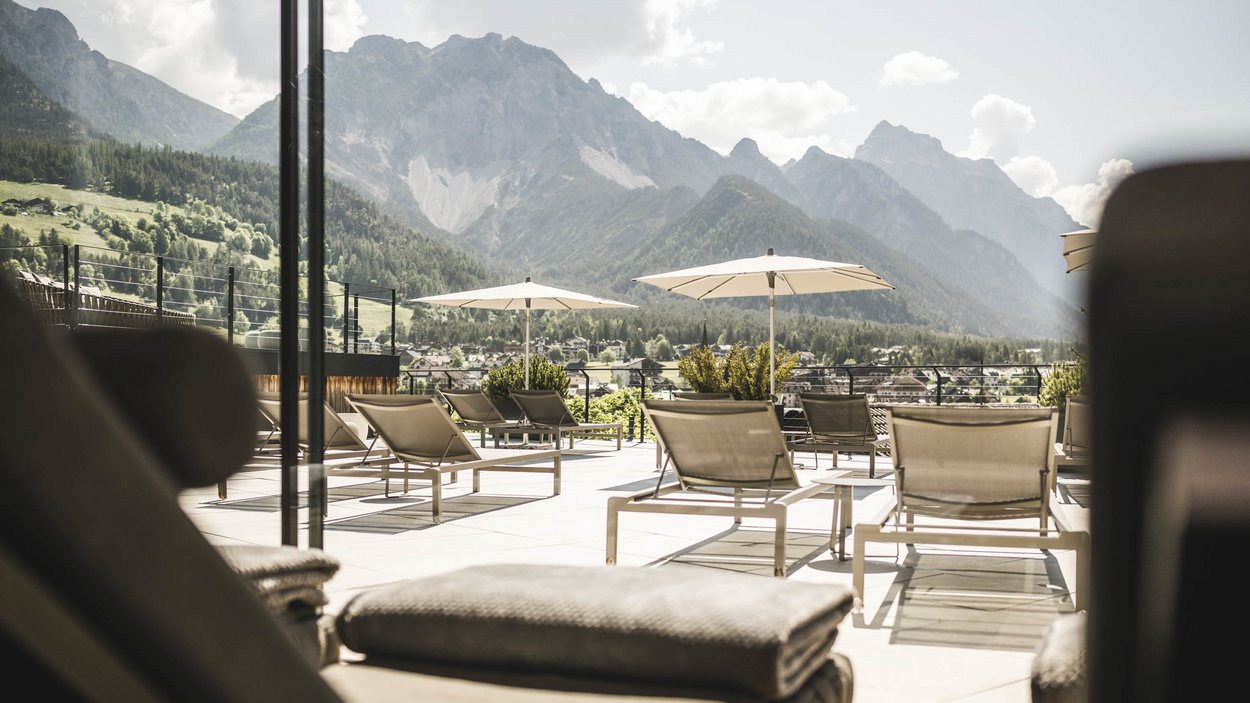 Entertainment and refreshment under one roof: at our resort's bar, Alberto and Luka will indulge you with delicious and creative cocktails and aperitifs. Look forward to their special cocktail shows that fill the air with excitement!