Our goal:
the Excelsior goes green!
At the Excelsior Dolomites Life Resort, when we say, "Nature is close to our hearts," it is more than just a marketing ploy. We make protecting and respecting our environment one of our highest priorities, and for this, we were awarded the Sustainability Certificate by the Global Sustainable Tourism Council (GSTC) on 30 August 2021. From the use of regional agricultural products and meat from our Call family butchery to the considerate use of resources, such as energy and water, to our highly trained and valued staff, we ensure the highest quality for our beloved nature.
Following the verification process conducted by Vireo Srl, an accredited company for the issuance and verification of the certification, both the Excelsior Resort and the tourist destination St. Vigil/St. Martin were awarded the certification. Together, we decided to embark on this journey of sustainable tourism. The Global Sustainable Tourism Council (GSTC) is a non-profit organisation that defines the standards for sustainable development in the travel and tourism sector on a global level. This important certification requires destinations wishing to obtain it to orient their development towards a sustainable perspective, adopt an integrated and multidisciplinary approach, and have a holistic vision in the standard's four main areas: sustainable management, socio-economic sustainability, cultural sustainability, and environmental sustainability.
Global Sustainable Tourism Council
"We are proud to have embarked on this important project that will set the course for our future. The GSTC certification is just the beginning, not the finish line, for our company. I personally see this certification as the start of a continuous improvement process in the coming years." - Werner Call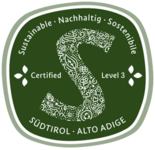 The Excelsior Dolomites Life Resort is certified as sustainable!
As well as the GSTC certification, we're delighted to have been awarded the highest level of the Sustainability Label South Tyrol, which is also based on the criteria of the GSTC. The goal: to provide a uniform understanding of sustainable tourism. The criteria can be divided into the four areas Management, Socio-economy, Culture, and Ecology. The sustainability label enables destinations and accommodation/gastronomy businesses to make their commitment to sustainable development visible to all. Because sustainability is a long-term path, there are three levels of the label, which are checked by an audit. For each level, different criteria have to be fulfilled, whereby the third level corresponds to the GSTC certification, which we have already achieved.
Whether milk, jam, honey, eggs, or grains from local farmers, meat from our Call family butchery, or sustainable products from pure organic producers, we choose the very best quality for our dishes. We give preference to local producers and suppliers: bread and pastries from the "Mupan" and "Pech Martin" bakeries in St. Vigil, pasta products from "Panificio San Vigilio", jams, honey, and spirits from the "Pincia" farm, and vegetables from the local vegetable garden "Urt da Ras - Mountain Veggies".
We serve vegetarian, vegan, gluten-free, and low-calorie dishes. Our kitchen team is happy to accommodate special requests from guests with allergies, intolerances, and other personal or religious needs.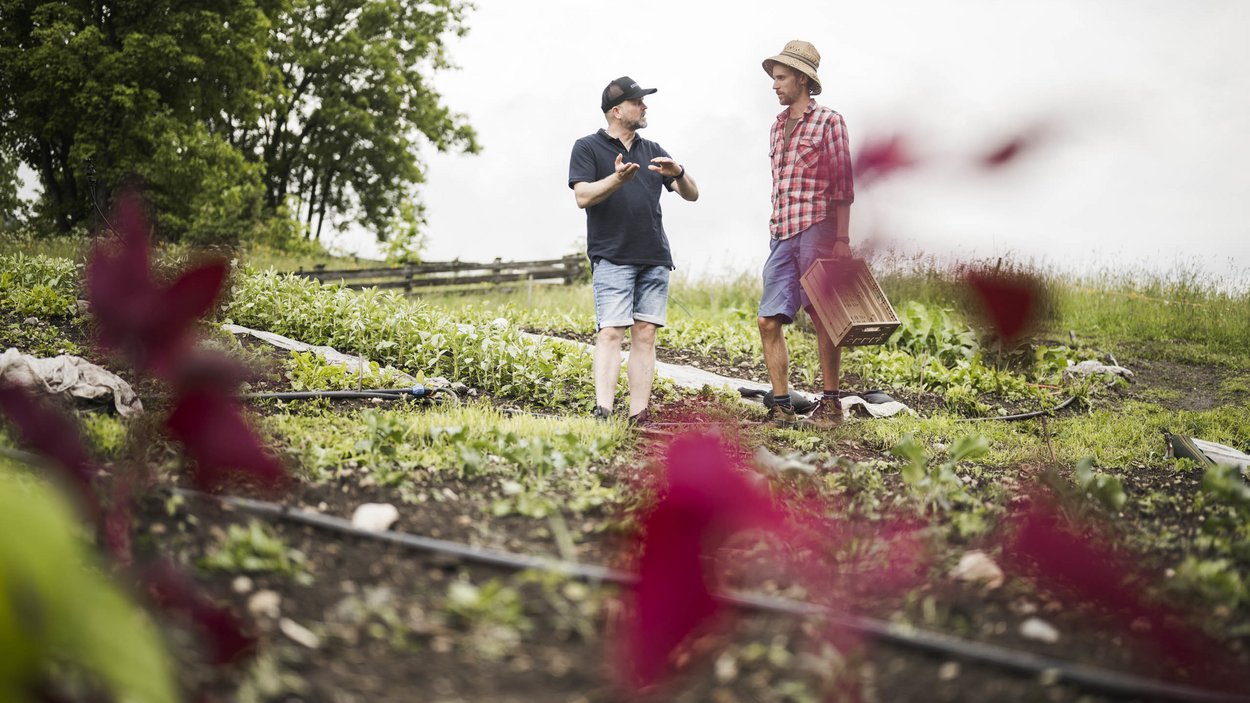 Putting an end to plastic
Throughout the hotel, we avoid plastic and carefully separate waste. The drinks at the bar are not served with plastic or single-use materials, such as straws or coasters. All drink and cocktail decorations are made by our bartenders. For our hot drinks, we use organic Alps Coffee as well as tea from the local farm "Maso Brunner"; our grappa and distillates come from the "Ladinia Distillery". Many of our juices, wines, beers, liqueurs, and distillates are produced in the region. Approximately 70% of the wines on our wine list are from South Tyrol, and the pale and craft draught beer is from "Monpiër Bier" in Val Gardena/Gröden. We have replaced the printed drink and wine menus with tablets to save paper. Finally, we serve our guests free fresh spring water in glass carafes with every meal.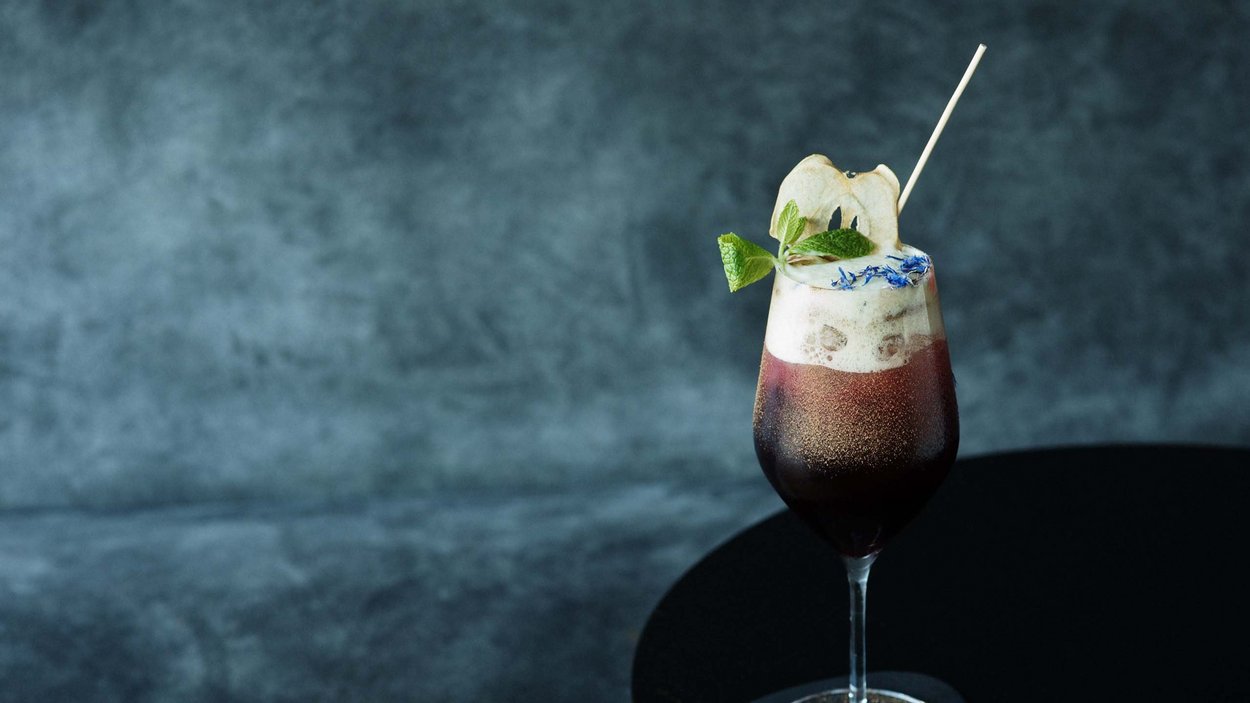 Throughout the resort and in the rooms, the soap dispensers are filled with customised, organic care products from the company "Pure Green"; enriched with pine and lemon balm aromas, they reflect our mountain landscape. We use sustainable and biodegradable products from the company "Unyrain" for all our laundry. Our employees have all been trained in hygiene so we can guarantee maximum sanitary protection in all areas. The swimming pool is disinfected using salt tablets on a chlorine zone basis without synthetic chlorine to ensure our water treatment is allergy-friendly.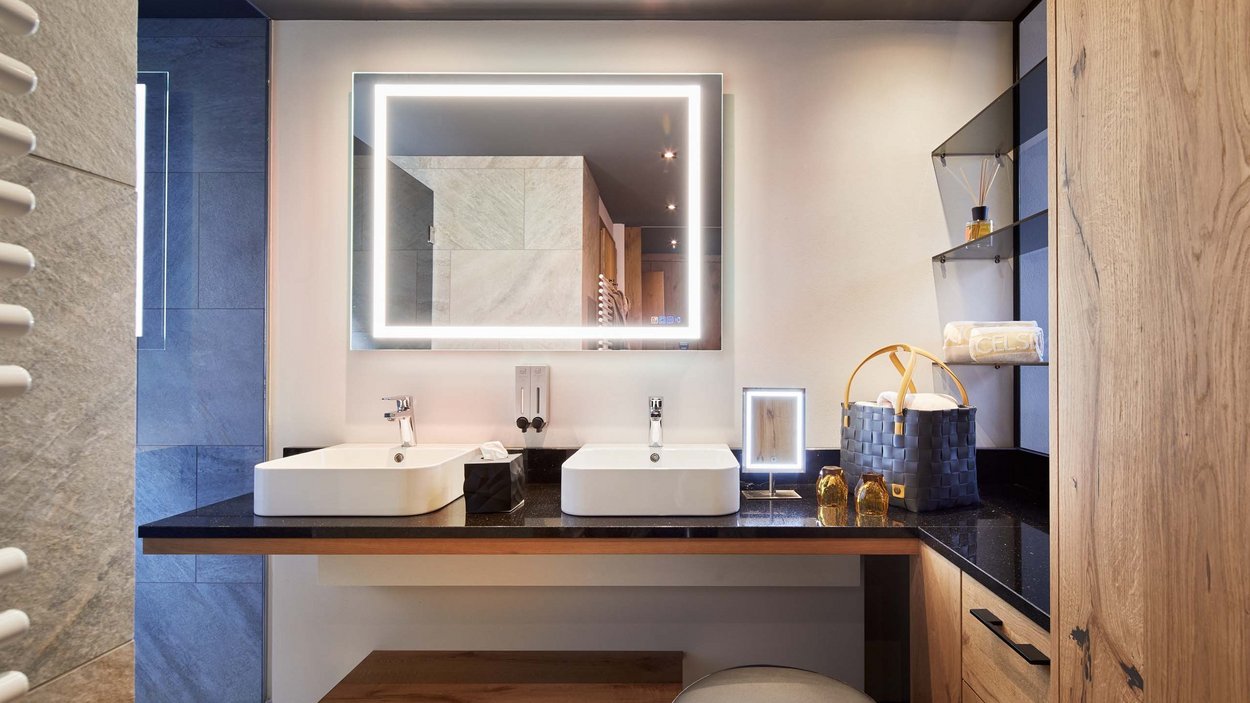 The Excelsior's green rooms
Guests are welcomed with a sweet surprise from the South Tyrolean company "Loacker" and a bottle of natural water straight from our Dolomite springs. All aluminium coffee capsules in the suites have been replaced with biodegradable fairtrade capsules. Guests can also try two bottles of local fruit juice. The refrigerator may be freely used by our guests. When you arrive, it is switched off – just call reception to switch it on.
Our guests are invited to individually choose their preferred mattress firmness for a restful night's sleep. The soap dispensers in the resort and the rooms contain personalised, organic care products from the organic company "Pure Green"; enriched with stone pine and lemon balm aromas, they reflect our mountain landscape. All products in the toiletry kit are packaged in recycled paper.
Our guests can leave dirty towels that need to be changed on the floor. The bathrobe is free of charge and is washed every seven days and at the end of the stay. Additional linen will be charged. During the stay, bed linen is changed every three days unless guests request a more frequent change. If they put the #myexcelsiorgreen sign on the door, it means they choose not to have their room cleaned that day. If they put the #myexcelsiorgreen sign on the bed, the bed linen will not be changed that day.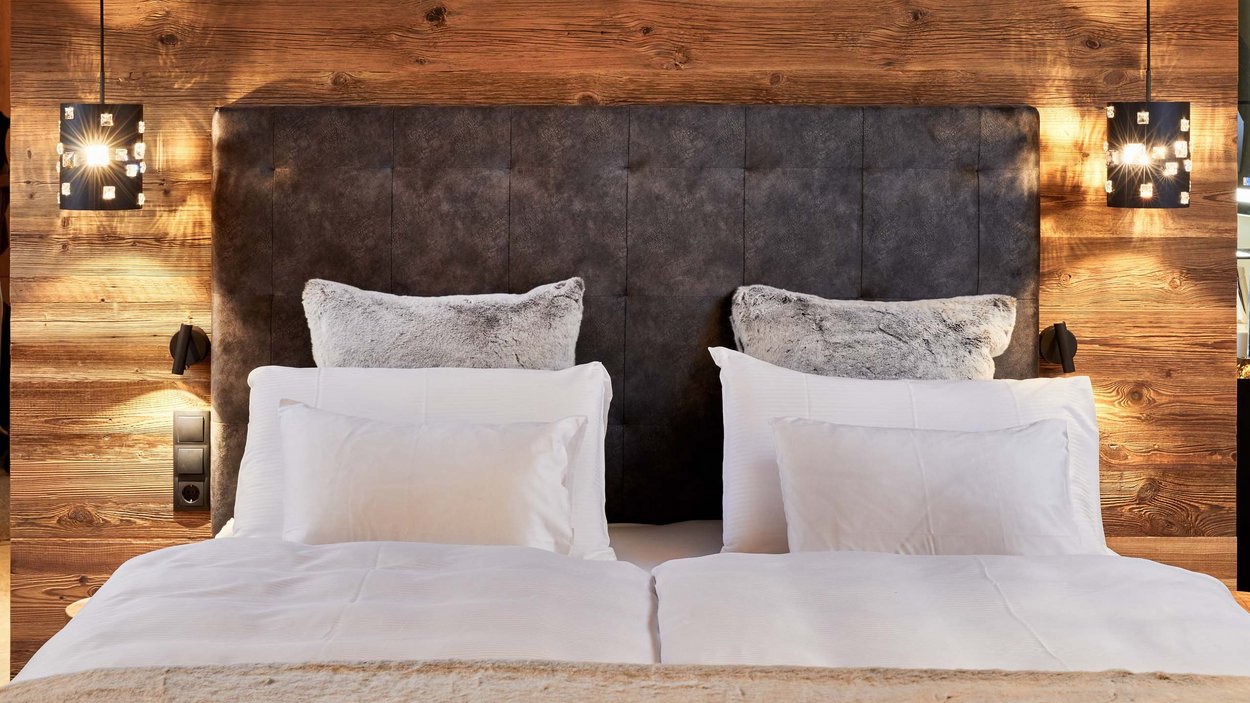 Our buildings were built for low energy consumption according to Klima Haus A and B criteria. Natural materials such as fibreboard, solid wood, and stone and recyclable products such as iron and glass were used in their construction. Our infinity pool requires 30% less energy than a comparable stainless steel or concrete pool, thanks to its polyurethane lining. The sophisticated overflow channel, the sterilisation system, and the heat recovery from OSPA save another 20% in energy costs. Part of our energy is supplied by a CHP unit. The plant simultaneously produces electricity and thermal heat without requiring additional fuel.
Hogast's statistics, which compare energy and methane consumption over time, allow for constant monitoring. In 2022, we offset our methane emissions of 2021 through our "WOWnature" projects. One of these projects focused on protecting the food forest in Alta Badia, and the other supported a local community in Vietnam. The plants that surround the Excelsior were planted by the landscape company "Obojes". They exclusively comprise species well-suited to the climate and weather conditions of our mountains, such as pines, stone pine, ivy, etc.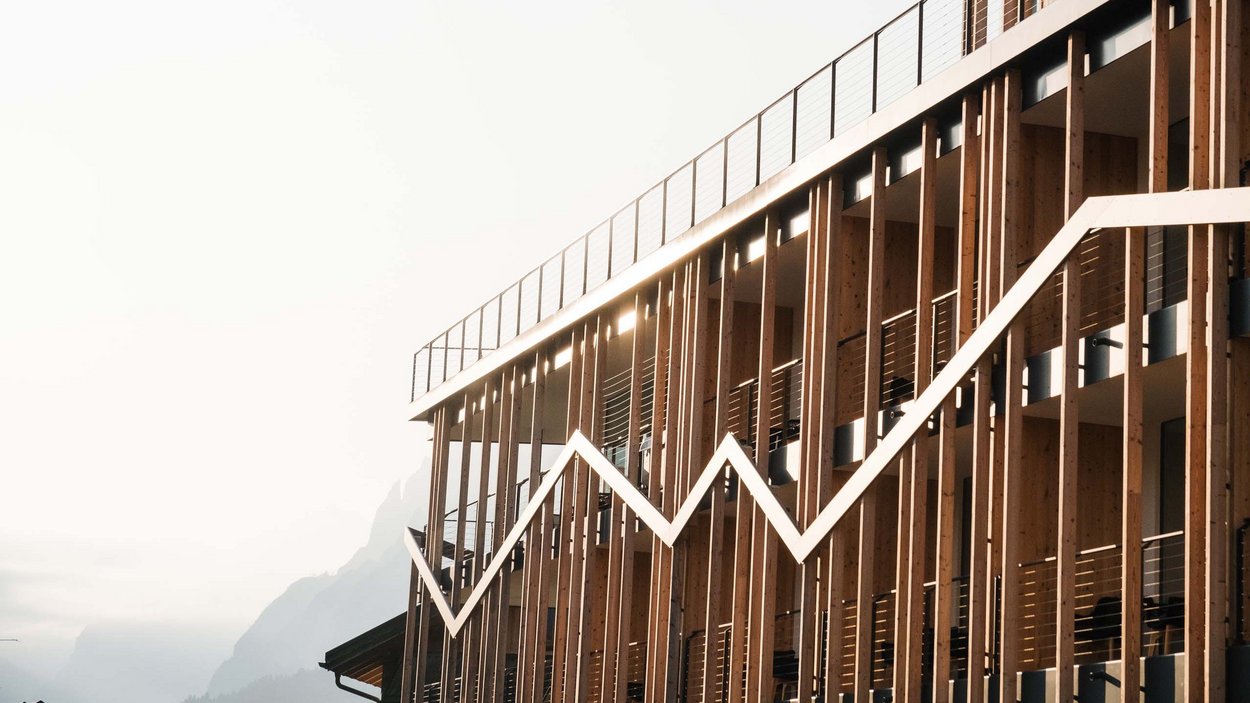 As a village without through-traffic and with a sustainable mobility vision, St. Vigil offers a unique opportunity to explore the area without a car. In summer, our guests can reach all hiking destinations in the region using free shuttles and lifts. On request, the reception will provide you with a Holidaypass, which allows free use of all public transport in South Tyrol. Numerous hiking and biking routes start right from our front door. In winter, our guests can reach the ski slopes directly from the hotel's ski room. At the resort's entrance, 2 ECOGY charging stations for electric cars (€0.70 per kW) are available to our guests. We are a partner of Mercedes-Benz Italy, so our guests have the exclusive opportunity to test drive the electric EQB Mercedes.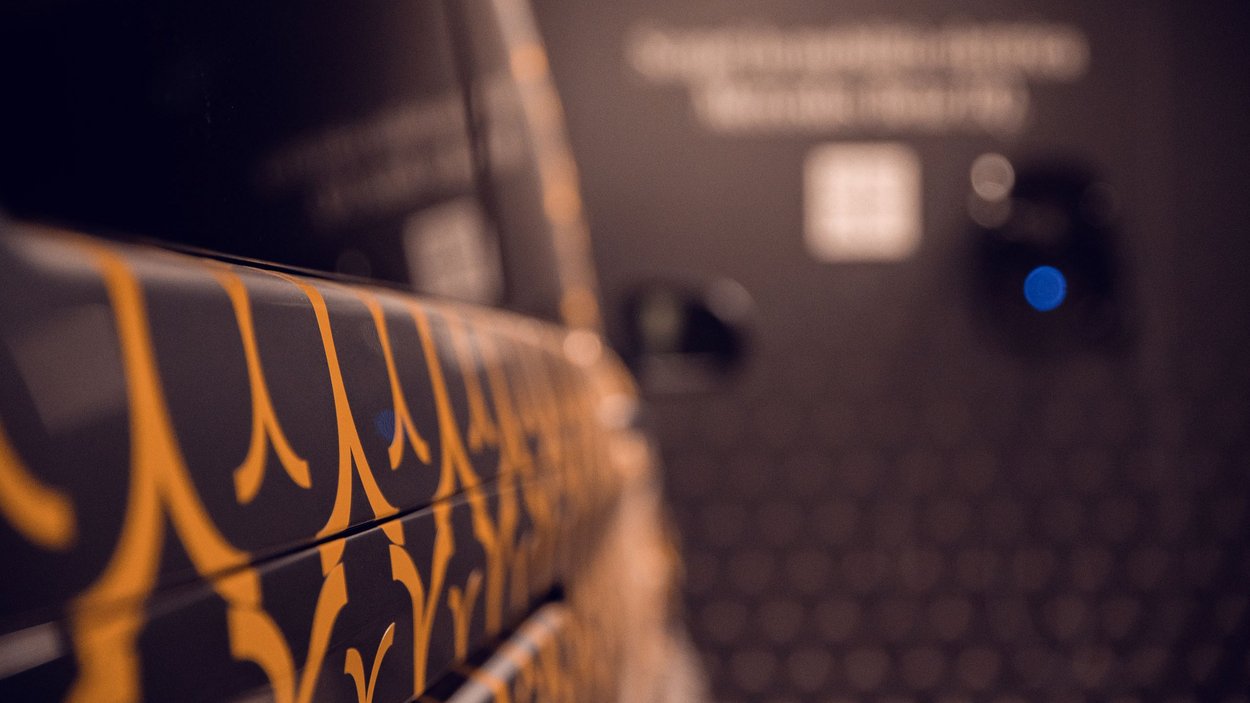 We are committed to supporting projects and initiatives that enrich the cultural heritage of our community. We support local associations, such as the music ensemble, sports clubs, the church community, and the tourism association, through financial contributions and by helping out at festivals and events. Likewise, we choose our artisan partners based on our philosophy. For instance, during the construction of the new Dolomites Lodge and the recent renovation work, we worked almost exclusively with local companies. In the process, we never throw away undamaged furniture but sell or give it away so that it can find a new home. In order to bring our Ladin culture closer to the guests, they are greeted on arrival by receptionists in traditional dirndl dresses, themed evenings with music and traditional dinners are organised, and our culture is brought closer to the guests during guided hikes.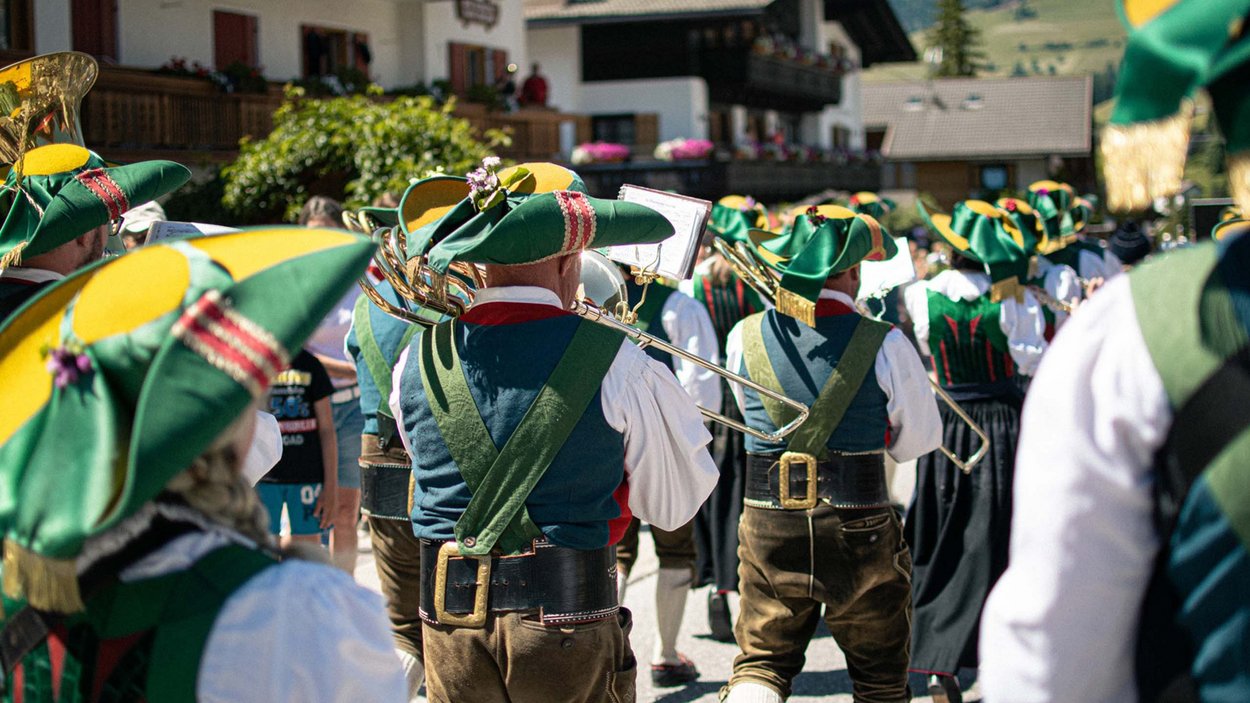 Only the best for our employees
"When the employees do well, the guests do well, too." In line with this motto, our employees are valued, supported, and promoted. Fair pay with regulated working hours and days off: none of our team members works more than eight hours a day, not even in the kitchen or in service. These accommodations create a feel-good atmosphere and a relaxing retreat. With free annual training and our own employee menus, we offer the best conditions for a dream job at the Dolomites Life Resort.
Our staff have access to "hotelkit", an internal communication tool that makes daily work more effective and increases value for guests. Daily team meetings promote togetherness, and this exchange of ideas, as well as the additional weekly department head meetings for the organisation of the operation, confirms our reputation as a friendly and accommodating #myexcelsoiorteam. Our staff are actively trained in internal environmental, sustainability, and social policy initiatives both before and during the season. This training teaches them how to save energy and water, comply with waste disposal regulations, use detergents correctly, and buy regional, organic, seasonal, and fair-trade products. We also encourage our employees to explore nature together in their free time; for example, they can use our mountain bikes free of charge and have access to the fitness room to exercise when the weather is bad.
A project of the heart: WOWnature
For us as hosts, and our resort as a whole, the natural landscape of the Dolomites is our heritage. Indeed, their beauty has a powerful attraction over the many guests who come to spend a relaxing and restorative stay amidst the greenery of our valleys. It is our task to convey to them and our staff the importance of respecting the forests – as a source of energy, oxygen, and well-being.
For this reason, we decided to team up with WOWnature to support some important projects. This association helps companies reduce their carbon footprint, act sustainably, stop greenwashing, and much more.
We have chosen to help protect the Alta Badia adüm food forest. As part of the reforestation and protection project, native plant species such as bilberry, alchemilla, nettle, stone pine, raspberry, alpine rhubarb, and many others are planted to achieve the maximum biodiversity and protect the forest, as well as the trees affected by the Vaia storm of 2018.
Also, in the remote province of Huong Son in Vietnam, we are participating in a conservation project that helps local communities live in balance with the forest by growing new trees and plants for sustainable production and developing the market for wild forest products, such as bamboo, rattan, and numerous medicinal plants. As a family and as a company, we want to contribute to the revitalisation of the world's forests for future generations through these projects.
For 2023, we've decided to continue to support the protection of Vietnamese forests and to dedicate ourselves to the forests of Val di Fiemme/Fleimstal that are still suffering from the damage caused by the Vaia storm in October 2018. Our commitment to nature has no limits!